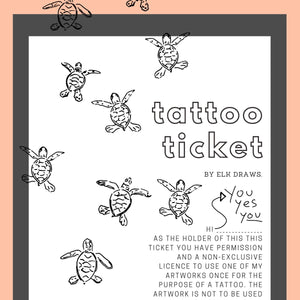 So you're in the market for a tattoo?
A 'tattoo ticket' is a way to both show your support for what I do as an artist and to gain written permission to use one of my existing artworks for a tattoo or as inspiration for a tattoo.
After purchase you will be emailed a PDF "ticket" which grants you a non-exclusive use licence for use of the artwork for a tattoo. 
You'll find that when you bring artwork to tattoo artists many will feel more comfortable tattooing when they receive approval from the original artist to reproduce the work (let's not get into an essay about copyright infringement!).
If you require a clearer image you can always email me at hello@elkdraws.com and I'll do my best to find a digital image that I can forward you. I try to take photos of all my work but cannot guarantee that I'll have one that is clearer than what is already on my website or instagram!   
And send me a picture or tag me on instagram if my artwork becomes a part of your body!!
Which artwork can I choose?
You can choose any artwork you like however, please note this listing is for existing artwork and is not a ticket to commission an artwork. If you would like a commissioned artwork please contact me for a quote.
How can I use the artwork?
The artwork is to be utilised for personal tattoo purposes only and not for any commercial use. If you are interested in artwork for commercial uses please email e and I will organise you a quote.
If you have any further questions, please use the contact form or email hello@elkdraws.com for any questions.