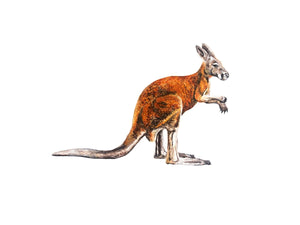 Red Kangaroo was painted at the beginning of 2020, in a time when fires were blazing and coronavirus was threatening. Black and white ink wasn't meeting my needs and instead I was craving colour.
I pulled out my acrylics and I began to paint. Red Kangaroo was the outcome and certainly brightened the days that he was painted over.
The painting is on the Arches 100% Cotton Rag Paper which is of the highest quality fine art paper money can buy. Paint used to paint this is is a mix of 'Matisse' and 'Golden' acrylic paint.
Due to the fine art materials used, this artwork is of archival museum quality and will last for at least 100 years to come.
Framing Available:
Have Red Kangaroo arrive to you professionally framed with beautiful Oak.
If the original is out of your price range or already sold remember there are limited and open edition prints available.
Open Edition and Limited Edition Archival Prints on Paper:
Open Edition sizes:
A5 (21 x 14.8 cm) - $29.95
A4 (21 x 29.7 cm) – $44.95
Limited Edition Sizes:
A3 (29.7 x 42 cm) - $119.95 (Edition of 100 prints)
A2 (42 X 59.4 cm) - $299.95 (Edition of 50 prints)
Open Edition vs Limited Edition Prints:
Open edition prints are printed an unlimited number of times whereas limited edition prints are limited to a set number which will not be exceeded and each print is numbered as part of an edition and accompanied by a Certificate of Authenticity.
Material:
All prints are printed on Hahnemühle Bamboo 290gsm paper. An eco friendly, warm toned fine art paper which is museum quality archival paper, made to last at least 75 - 100 years. A3, A4 and A5 prints are mounted on 100% recycled backing board and protected in an archival sleeve.
Postage: 
Prints are posted between two 100% recycled cardboard backing boards or in a cardboard tube to keep them safe from harm in the post.
Combined postage and international shipping is available. Please use the contact form or email hello@elkdraws.com for any questions.